Meilleurs vœux! The holidays are upon us already, and many families are focusing on decorating their homes and preparing for time with loved ones. If you have a little one that is interested in learning a new language, such as French, now is the perfect time to incorporate the fun of mastering an entirely new way of speaking!
Crossing Borders Preschool is here to help Texas students develop a solid basis for a lifetime of language mastery. Our language immersion programs in Houston provide proven instruction for children from 18 months to six years of age. We love to get little learners excited about the opportunities afforded by being bilingual, and will help you guide your child toward a successful future!
While our last blog post focused on holiday activities to get children excited about speaking Spanish, today's topic will center around tips and ideas for a French holiday. Be sure to contact us after the new year to see how our language immersion preschool works!
HANG CHRISTMAS DECORATIONS
If you are about to hang your holiday decorations, why not turn it into a themed event focusing on French terms and phrases? Your family can research and recite a variety of descriptors for your favorite ornaments, including une boule (ornament), une couronne (wreath), une guirlande (garand), and more. Many families have made the most of French traditions, but be sure to do your research before making any decisions. Christmastime here in the United States is much different. Traditionally, French families do not put up the tree until Christmas Eve, leaving it up for 12 nights until the arrival of the three kings (also known as the Epiphanie). Children also do not place stockings on the mantel. Instead, they place their shoes by the fireplace for bonbons and other treats.
SING YOUR FAVORITE CAROLS
Christmas carols can be a holiday staple for many families, and singing these classics in a new language can provide an ideal platform for your little learn to practice his or her language skills. A variety of French composers and songwriters have contributed to the massive playlist available for your celebrations, as well as modern hits and classics translated into French. Your family can sing along and quickly learn the cadence and flow for easier language acquisition. Singing Christmas classics in French also shows your child that switching from dialect to another can be simple and fun.
While France is known for a variety of Christmas classics, it's important to mention that caroling is not a part of the holiday festivities. In fact, there is no term for such an activity. Our immersion preschool focuses on providing a fun, exciting way to make bilingual learning enjoyable for children just starting out, and we are happy to provide you with assistance in finding the best activities to get your little one excited about mastering French.
WRITE LETTERS TO SANTA
One traditional activity that can take on a fun element of bilinguality is writing to Père Noël, or "Father Christmas." This is the perfect opportunity for your little learner to try out a variety of French terms, whether they are just starting out or have become quite fluent over the years. Writing letters to Santa is a fun activity that helps little ones polish their writing skills, including normal conversation, asking questions, and formatting lists. You can create a format to best cover the terms your little one should know, including:
Questions about Santa — How is he doing? How are his reindeer? Where does he live? These questions can be simple in format and provide practice in utilizing terms and phrases used in daily life.
Information for Santa — If your little one has been a good child this year, then they should definitely let Santa know! Kids love to give updates about their actions, and this letter can be the perfect time to show off their mastery of the French language.
Requests — Shopping for your kid can be a challenge, but with the help of Père Noël, you can ensure that you have picked out the perfect gifts. If your child is excited to open these presents on Christmas Day, be sure to mention that their French skills played a role!

COOK CLASSIC MEALS
The meals you consumer over the holidays can provide memorable flavors for the entire family. Introducing French meals can do much to generate excitement about this theme, as you and your child can prepare each dish to get in the spirit. Try describing the dish in French, as well as any prep instructions (we recommend double-checking your work!). There are many dishes to choose from, but a majority of the meals you find will consist of seafood, including:
Lobster
Caviar
Scallops
Oysters
Smoked salmon
The price and level of preparation can vary by dish, so be sure you plan ahead if you want to cook true to French form for the holidays!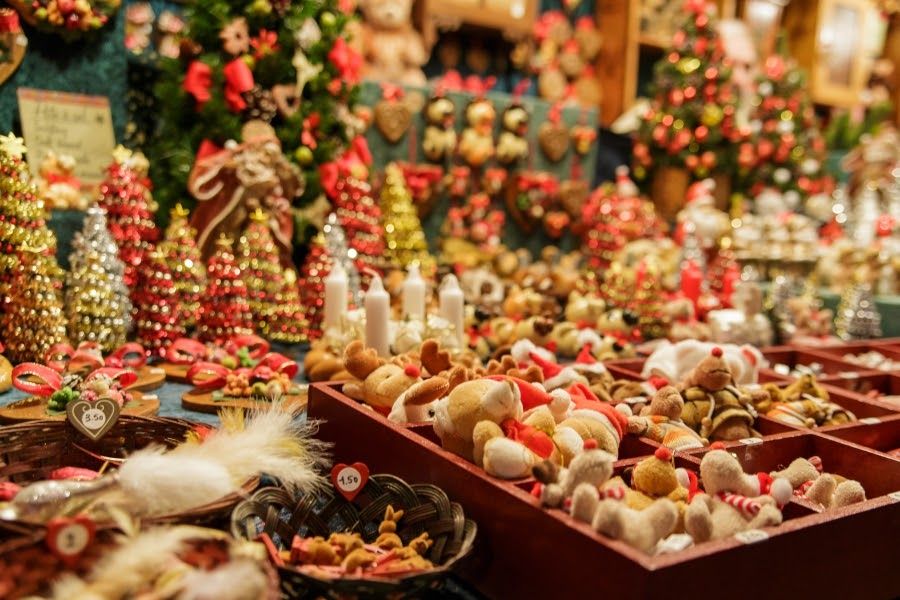 TELL CHRISTMAS STORIES
French culture yields several differences and similarities when it comes to the holiday season, and now is the perfect opportunity to retell some classic Christmas stories. With works from Dominique Fabre, Jean-Philippe Blondel, and more, you can bring classic and unknown tales into your home to show your little one how exciting this holiday can be for French children. You can introduce new elements into every story, working with your child to learn and understand the terms for future bilingual use. Learning a new language can prove to be an amazing experience, and one that our child development center strives to bring children across Texas.
Crossing Borders Preschool is here to provide the best language immersion programs across Houston for young learners. Our multilingual preschool relies on a proven program taught by native speakers to help your little one develop an excitement for learning that will last a lifetime. As the holidays come to a close, be sure to reach out to our early childhood education team to learn about the amazing opportunities that being bilingual can provide for your child. Contact us today to learn more!